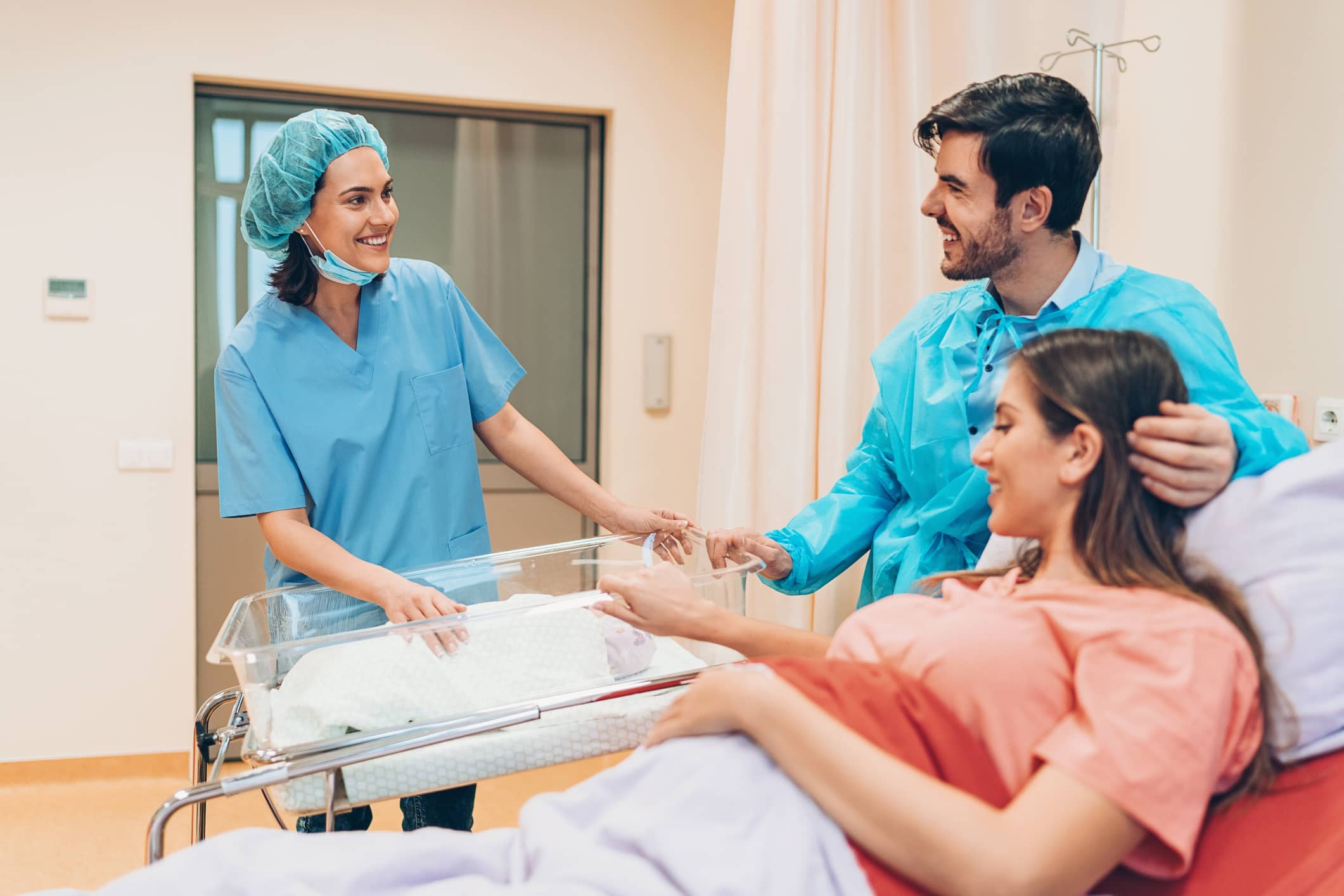 Labor and Delivery Nursing: Jobs, Subspecialties & More
Assisting women through the birthing process and postpartum care, labor and delivery nurses experience the joys of bringing new lives into the world but also, sometimes, the tragic loss of life.
Katrina C. Little, MSN-Ed, RN, faculty lecturer in the department of nursing at Metropolitan State University-Denver, has described labor and delivery (L&D) nursing as celebrating the start of a life journey with families.
Working as a labor and delivery nurse
Strong clinical and communication skills are a necessary part of the job for L&D nurses, Little reported. Labor and delivery nurses must quickly establish trust with their patients and the woman's support team. L&D nurses not only continuously monitor the pregnant woman and the fetus but also educate the patient and support persons about what to expect. It's important for nurses to set a positive tone and display a professional and knowledgeable demeanor.
Labor and delivery nurses also must advocate for patients and show concern and care while balancing their assessment and monitoring duties for mother and baby. It often requires strong time management and organizational skills.
Compassion, patience and cultural competence are critical to successful labor and delivery practice. Critical thinking and confident nursing judgments are important as well.
Labor and delivery nurses should enjoy a fast-paced environment, with potentially rapidly changing priorities.
While most of the time the baby and mother are fine, sometimes, the fetus or woman dies, so labor and delivery nurses must be prepared to deal with such tragedies.
Efforts are underway to improve maternal-child health outcomes, as the United States has the highest rate of maternal deaths among developed countries, according to a 2020 report from The Commonwealth Fund. The U.S. Department of Health and Human Services has issued a plan to combat the problem, and the American Rescue Plan Act expanded Medicaid for a full year after delivery, starting in April 2022.
L&D nursing certification
L&D nursing certification is important to many employers, as it shows the nurse has the skills and knowledge to practice in this specialty.
The National Certification Corporation offers Inpatient Obstetric Nursing certification, which involves an examination that tests specialty knowledge and the application of that knowledge for licensed registered nurses. Applicants must have a minimum of two years of specialty experience in providing care to hospitalized pregnant women during the antepartum, intrapartum, postpartum and newborn periods.
In addition to this specific L&D nursing certification, other, related certifications are available and expected for some labor and delivery nursing positions. They include Electronic Fetal Monitoring from the National Certification Corporation or the Perinatal Quality Foundation. The American Academy of Pediatrics also offers a Neonatal Resuscitation Provider course. Many jobs for L&D nurses require these certifications.
Subspecialties in L&D nursing
High-risk obstetrics, antepartum, postpartum and C-section circulator are among the areas labor and delivery nurses may subspecialize.
High-risk obstetrics encompasses caring for pregnant women who are at high risk of complications. They may have underlying conditions, such as diabetes or hypertension.
Antepartum nurses care for patients admitted for pregnancy complications, such as hyperemesis gravidarum, preeclampsia or gestational diabetes. The nurses monitor their patients and stay attuned to any condition changes.
Postpartum nurses care for women and their babies after delivery. They monitor for changes in either's condition. They promote bonding between mother and baby and educate the woman about how to properly care for the newborn. That may include helping the woman with breastfeeding and showing her how to change a diaper or give a bath.
Some L&D nurses continue their education and become certified nurse midwives (CNMs), which are advanced practice registered nurses with a master's degree. Certification is offered through the American College of Nurse-Midwives.
Jobs for L&D nurses
There were more than 3.6 million U.S births in 2020, according to the National Center for Health Statistics, and labor and delivery nursing is expected to continue being an in-demand specialty, for both staff positions and short-term contract nursing jobs.
Traveling labor and delivery nurses can earn between $2,500 and $5,000 or more each week, depending on location and the hiring facility. Part of their compensation includes housing, reimbursements for travel, and stipends for meals and incidentals.
Hospitals often require travel nurses to have one or two years of experience in labor and delivery and some request nurses with prior experience in travel assignments. Many require Basic Life Support and Advanced Cardiac Life Support certification, advanced fetal heart monitoring credentials and completion of the neonatal resuscitation provider course.
When working on assignment, L&D travel nurses can avoid hospital politics and simply focus on providing expectant mothers and babies with excellent patient care. On their days off, they can explore the community, see the sights and enjoy the great outdoors.
NurseChoice has dozens of contract L&D nursing jobs across the U.S.
APPLY TODAY to connect with one of our friendly recruiters.