The One Travel Nursing App You Don't Want to Miss
Imagine a smartphone app that holds the key to your travel nursing life. A place where you can easily find, book, and manage your travel assignments. An app where you have access to your credentials, time and payment details, self-serve checklists, electronic signatures, helpful resources, and so much more...
Well, imagine no more—the future of travel nursing is here with the launch of the AMN Passport mobile app!
As a way to say thank you for checking it out, AMN Healthcare (including Nurse Choice) is currently running a travel nursing contest with a $25,000 grand prize. Just download the AMN Passport app and sign in by July 1, 2021, for your chance to win.
Then read on to discover the benefits of this innovative app. Among a multitude of travel nursing apps, this is the one you don't want to miss.
3 top reasons to use the AMN Passport app
Get access to personalized jobs.
Searching for your next travel nurse assignment has never been easier. Not only can you customize and filter job preferences in the app and let your recruiter know the jobs you're interested in, but you can also book and manage your next assignment right from the palm of your hand. AMN Passport gives you access to thousands of jobs across a multitude of specialties and locations. Whether you are looking for a top-paying job at a teaching hospital or an assignment closer to friends and family, we can make your travel dreams come true. All jobs feature detailed information such as pay rates, contract lengths, and other assignment specifics, including facility details.
Keep track of your credentials and other personal info.
Our unique credential wallet is one feature of the app that you won't want to miss. You can store your credential information in this centralized location and have a clear view of your key qualifications. You will even get specific reminders for when a credential is going to expire. We understand that you are busy taking care of your patients and enjoying your assignment cities, so let the AMN Passport take managing your credentials off your plate!
This travel nursing app also gives you access to a checklist so you can check your progress with onboarding to ensure you stay on top of any missing items. You can also edit your profile and manage your account settings -- talk about a one-stop-shop!
Review your time and pay details
With overtime, back-to-back shifts, and bonuses, keeping track of your payment details and the hours you worked can be a full-time job in itself. With the AMN Passport, you no longer have to worry about logging in to a cumbersome system to ensure your time and pay details are accurate. Everything is right there in the travel nursing app.
Discover more about the many features and benefits of the AMN Passport app.
Don't wait: Download AMN Passport by 7/1 for your chance at $25k!
How would an extra $25,000 look in your bank account? The income boost could be yours just by downloading the AMN Passport. Yep, you read that right. There are no other hoops to jump through; download this travel nursing app and sign in for your chance to win.
How would you spend your $25K?
Take a much-needed vacation?

Pay off nursing school loans?

Donate to your favorite charity?

Put a down payment on a house or condo?

Treat family and friends to a special weekend getaway?
The choice is yours! Just download the app from the Apple App Store or Google Play by July 1, and then sign in to enter.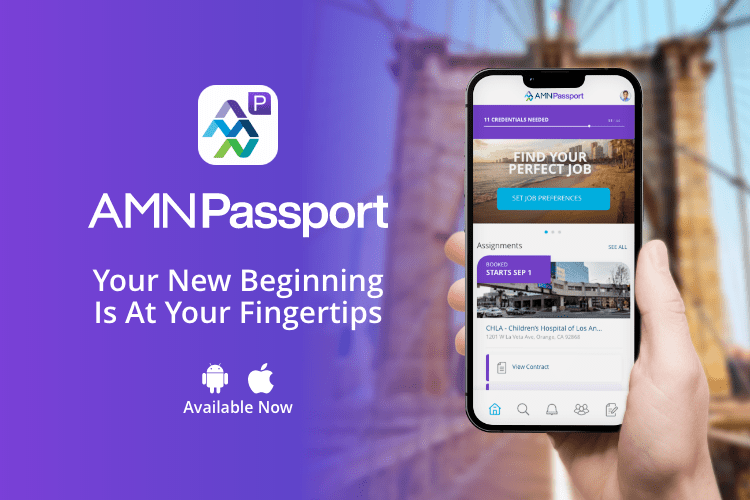 Download AMN Passport
Easily find, book and manage all of your allied travel assignments in one, convenient place! You can even stay in contact with a recruiter, all with the tap of a finger!
Download on the

App Store
Get it on

Google Play