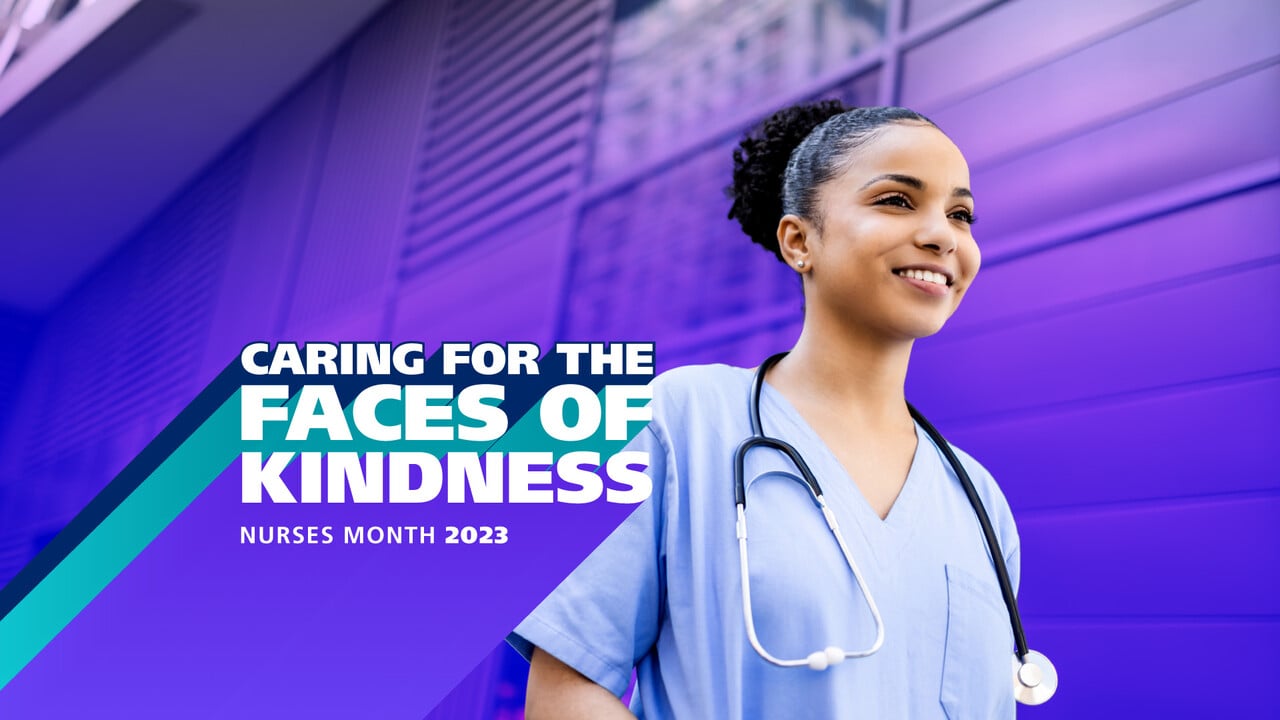 Nurses Month 2023: "Caring for the Faces of Kindness"
This Nurses Month, let's come together and show our appreciation for the faces of kindness: nurses. From the frontlines of healthcare to the back offices, nurses are the stewards of compassionate care and the backbone of healthcare. This year, AMN Healthcare is celebrating Nurses Month with giveaways, custom resources, a curated discount list, and events to thank nurses for their hard work and dedication. Join us as we honor the selfless individuals who make the world a healthier, happier place.
Nurses Month
This May marks the annual celebration of Nurses Month, a time when we come together to thank nurses for their tireless work and recognize the care they provide. As part of our ongoing mission to honor nurses, this year's theme is "Caring for the Faces of Kindness." We're focusing on celebrating the compassion and commitment nurses show every day to ensure that patients receive the quality care they need.
How you can get involved in Nurses Month (and win!)

For Nurses Month, we are highlighting the importance of nurse self-care and in some cases will literally bring self-care appreciation to your doorstep. Find out how you can get involved in the celebrations:
Giveaways: There are some BIG giveaways in store throughout the month. Nurses can participate in our month-long social media giveaway by submitting a video about their nursing perspective and experience on AMN Passport. Click here to submit a video. Nurses can also participate in other giveaways we're offering by following @amnnurse on Instagram.
Discounts: We aren't the only ones showing our appreciation. Businesses all over the country are paying tribute to nurses via a special nurse discount. You can access the curated list here and get the best deals on the items you need.
Events: Join us virtually at our AMN Lives events throughout May. Hear inspiring speakers and join in conversations with fellow professionals. Additionally, sign up for the Free Nurses Month Webinar hosted by the American Nurse Association to learn more about key issues in nursing and how you can add your voice to the conversation.
We will also be announcing our extraordinary AMN Healthcare Commitment to Excellence winners and DAISY Award winners throughout the month so stay tuned for their unique stories.
Our Commitment to Kindness
We are proud to recognize the hard work and dedication of nurses across the nation. We are committed to providing resources that help nurses excel in their practice and maintain a healthy work-life balance. As part of this commitment, we offer comprehensive health benefits and an Employee Assistance Program (EAP) that supports nurses and their families emotionally, financially, and physically.
We also encourage our nurses to take time for self-care. Self-care can be anything from taking a few moments out of your day for yourself or engaging in activities that make you feel refreshed. We believe it's important for healthcare professionals to prioritize their own well-being so they can continue to provide the highest quality care possible. For NurseFinders publication: Read about the Importance of Nurse Self-Care.
At AMN Healthcare, we strive to create an environment where kindness is recognized and celebrated every day – not just during Nurses Month. Our commitment to celebrating the Faces of Kindness goes beyond Nurses Month 2023 – it's an ongoing mission that will always be at the heart of what we do.
Find all of the information shared in this blog, plus exclusive videos, on our Nurses Month site.